DIY – Sokie Tech Hood Dampers – Gen1 or Gen2
Thanks to DTN from rdtiburon.com for this DIY, I'd of done my own but I didn't have a camera to do it with.
Introduction:
Hood dampers raise your hood pneumatically and suspend it without the use of a hood prop. In fact, after the installation of your hood lifters, you may remove your hood prop. The coolest thing about this project; removal comes after installation.
Also, sorry for the dirty pictures guys. It's been pretty cold out and I can't keep up with the pollen.
You will need:
General Purpose Tool set including:
Socket wrench
12MM socket
14MM socket
Small adjustable wrench
Phillips Screwdriver
Diet Pepsi MAX
Sokie Tech Hood dampers:
The Sokie Tech hood dampers kit is advertised for 97-99 RD-1 Tiburons, but in fact it will fit ALL RD tiburons from 1996-2001. This kit provides all hardware necessary for installation.
Sokie Tech Hood lifters cost approximately $65. They are available from E-Bay member alvoturk9000. This E-Bayer currently has 99.4% positive feedback which means he is pretty reliable and you can trust that you will be satisfied.
To remove the hood lifters from the packaging, you can unscrew the longer metallic end. That was the hardest part of this installation.
It should be noted that R means Passenger side and L means Drivers side.
Installation:
1. Lift your hood
2. remove 1 12mm lower mounting bolt which secures hood to hinge
3. replace bolt with provided washer loosely
3. slide provided mounting hardware notch over hole
*note: if you do not use the washer it will look like this picture, you can see that the stock washer is incapable of holding the hardware in place
4. remove 1 12mm upper mounting bolt which secures hood to hinge
5. slide upper portion of mounting hardware over the hole and replace bolt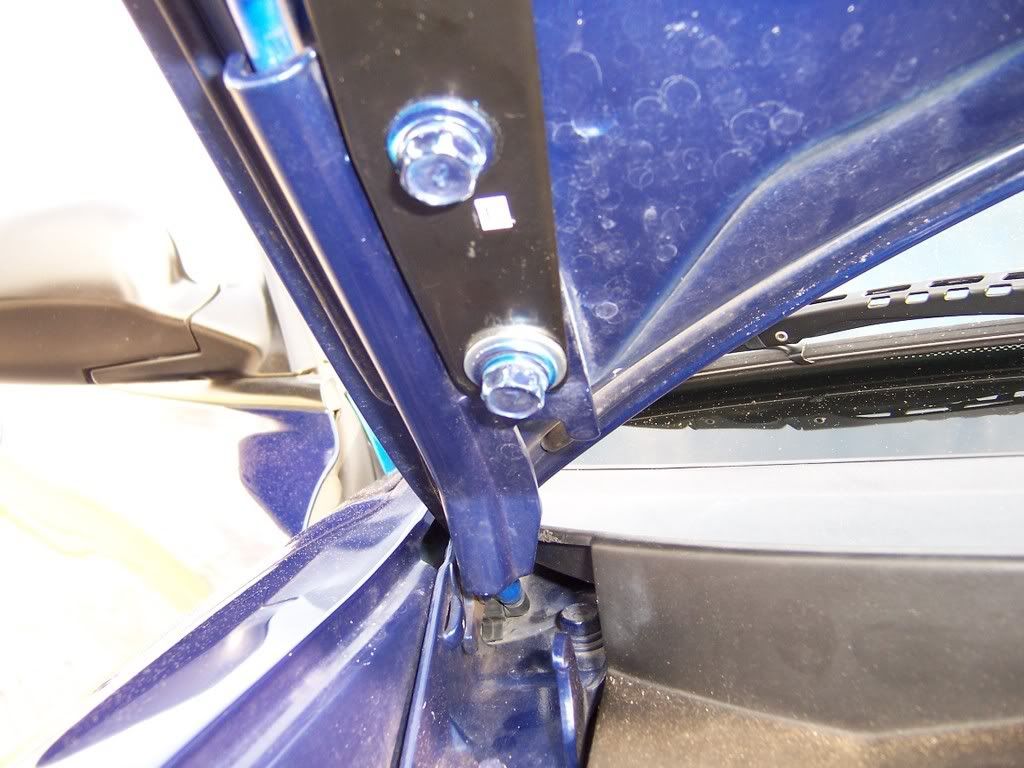 6. remove 1 14MM nut from front of strut mount located closest to the outside of the car
7. Replace nut with provided mounting hardware and washer.
*note: when replacing nut, lower mounting hardware tends to spin, You can use an adjustable wrench to hold the hardware in place while you work.
8. Remove locking pin from longer metallic end of provided hood lifter
9. Slide hood lifter onto lower mount and replace pin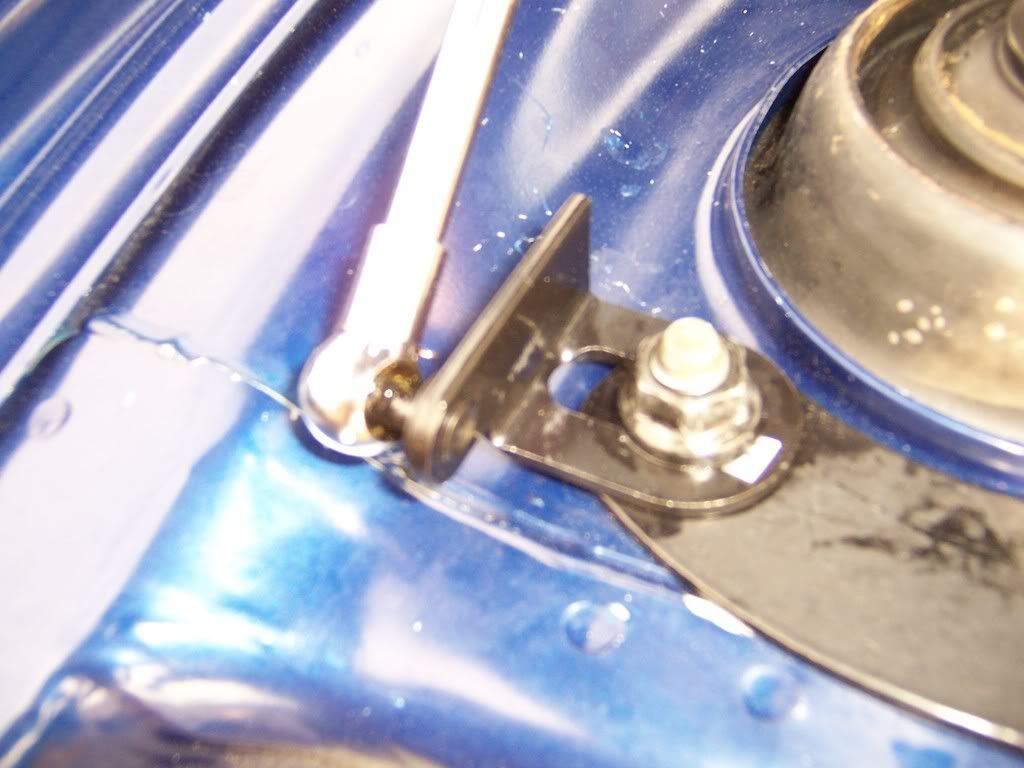 10. Remove locking pin from shorter metallic end
11. slide hood lifter onto upper mount and replace pin
The single hood lifter will keep the hood up.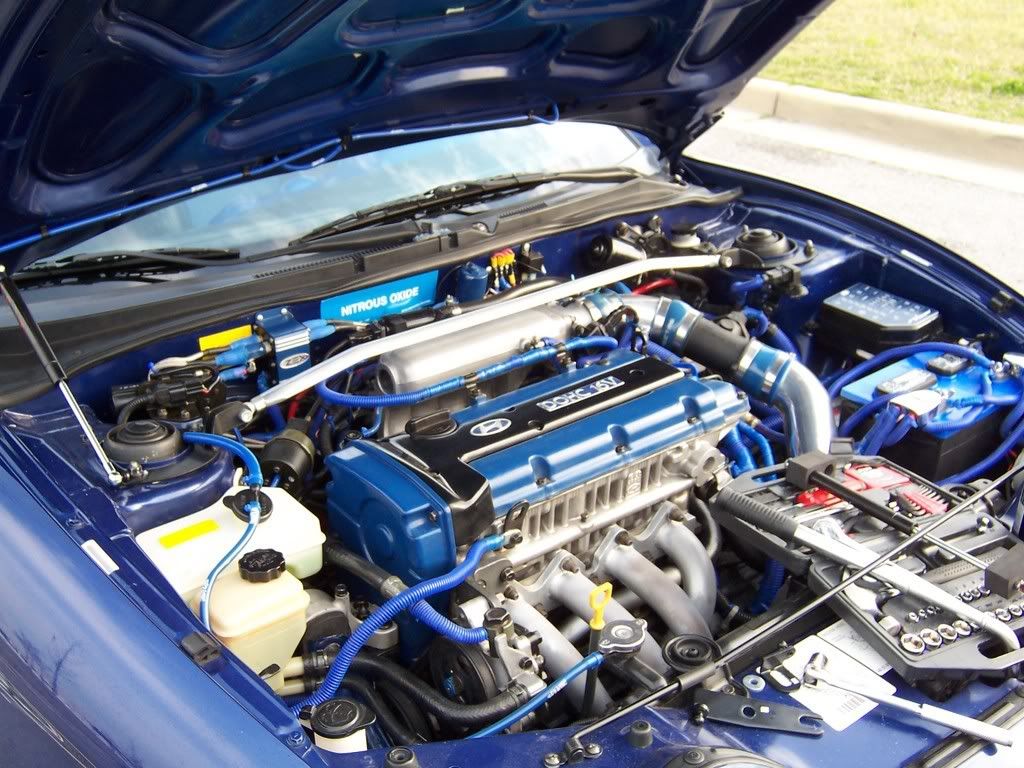 However, I have a few little additions, the guy whose car is in the pics had problems with his hood bowing, to prevent this you need to put something solid inbetween the hood and where the bracket overhangs at the top, this will stop the bowing and help the bonnet to shut better without wobbling first when you pull down in it.
I recommend these to anyone, from about £45 they are well worth it and they make a massive difference, stupid as it is but not having that stick is great lol!